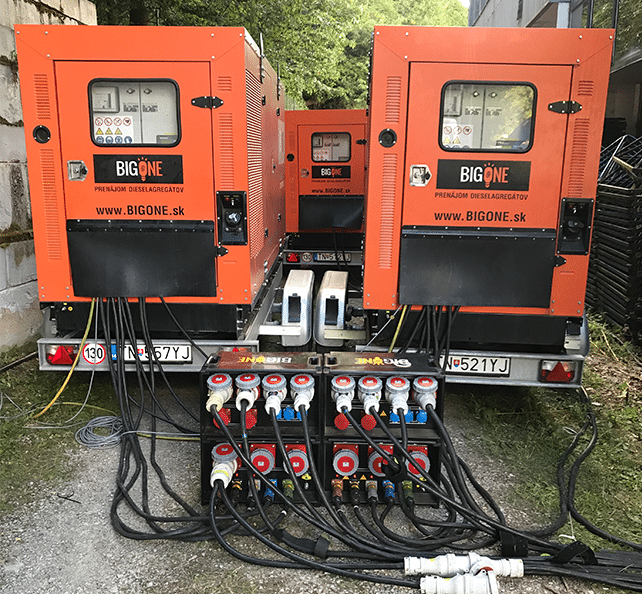 We provide substitute delivery of electric power
Company Big ONE, s.r.o offers mobile electric power in all of Slovakia and the Czech Republic. Our services are mainly required in industry or construction segments. We also cooperate among others with supermarket chains, banks, and a variety of sport and cultural events. To our customers, we offer a professional approach, reliability, and fair approach.  We deliver electric power anywhere it's needed. We have modern and the most recent models of diesel generators and mobile power plants. Our service includes the whole process from delivery through professional installation, operation and maintenance and refilling of fuel. We are here to solve your problems with either intentional or unforeseen electric power cuts, caused by calamity or other natural disasters. Our NON-STOP 24/7 support is here to make sure of that. Our main priority is the satisfaction of our customers by always delivering 100% quality services.
We will provide you with diesel generator or mobile power plant including complex services:
We solve large scale of problems
For our clients
references
Big ONE, s.r.o operates in all fields
Energy, industry, construction, retail chains, music, sport and cultural events, and many more
"Our company delivers high-quality services for our clients. That is by making sure our depots are prepared for unforeseen electric power outages, which could cause delays in parcel delivery. Thanks to long-term cooperation with BigOne we have this problem solved."
"Our stores rely on Big ONE service with planned or unforeseen electric power outages. In this direction, the key parameter is being able to rely on your contractor 100%. Flexibility (mostly when unforeseen electric power outage occurs), helpfulness, and transparency are welcomed bonus, and the reason for the cooperation, which is already ongoing for 3 years."
"We organize events and music festivals like HipHop Žije or Festík. Since our events are dependent on a reliable partner for electric power delivery, we cooperate with BIG ONE for several years now.."